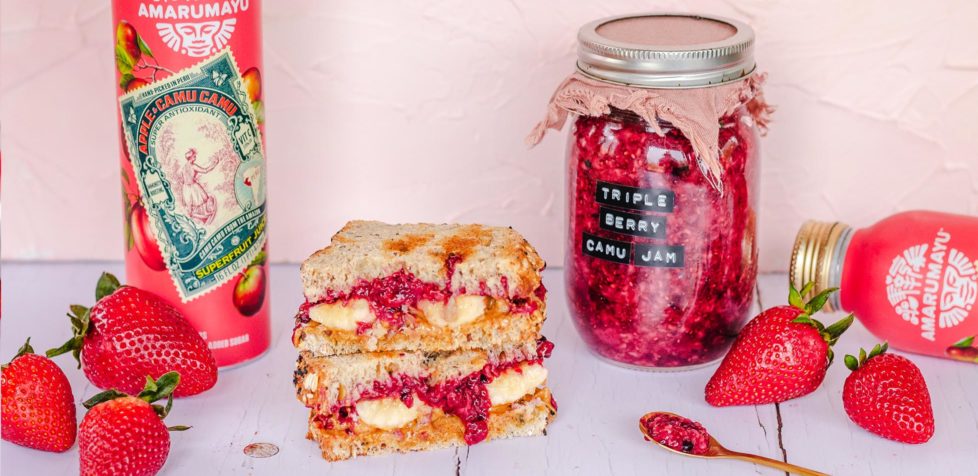 "We go together like peanut butter & jelly"… or rather, peanut butter & Triple Berry Camu Jam!:)
Here at AMARUMAYU, we LOVE finding new and exciting ways to include our beneficial superfruit juices in a wide variety of recipes that are both easy & healthy options for you and your family! With that being said, we just had to tackle a classic favorite of both kids and adults alike – a PB&J!
We'd like to think of this post as a two-for-one deal or a "recipe within a recipe!" Use this Jam as a mix-in for yogurt, a topping for oatmeal or smoothie bowls, as an alternative to syrup on pancakes and waffles OR make our delicious Peanut Butter, Banana & Camu Jam Sandwich that we've written about in our "recipe notes" section below!
Perfect Peanut Butter Pairings:
Every jelly needs the complement of a great peanut butter, right?! Here's our 2 cents when it comes to picking out the perfect peanut butter.
Keep it SIMPLE.
The less ingredients the better. When picking out peanut butter, we like to skip the sugar, preservatives and other added ingredients and reach for the brands that give us the good stuff only such as 100% peanuts or peanuts & salt. That's it!
Say NO to Palm oil.
Many peanut butter brands contain palm oil, a widely used vegetable oil in the food industry (and even in the personal care industry!) What's the problem with palm oil? We think that the World Wildlife Foundation explains it best here.
"Palm oil has been and continues to be a major driver of deforestation of some of the world's most biodiverse forests, destroying the habitat of already endangered species like the Orangutan, pygmy elephant and Sumatran rhino. This forest loss coupled with conversion of carbon rich peat soils are throwing out millions of tonnes of greenhouse gases into the atmosphere and contributing to climate change. There also remains some exploitation of workers and child labour."
Need suggestions? Here are our top picks for our favorite peanut butter brands!
Need to stock up on some AMARUMAYU Camu Camu Superfruit Juice? Get some here!
This Triple Berry Camu Jam makes for a low-sugar, healthy alternative to a classic jelly with all of the benefits of the Camu Camu Superfruit!
Equipment
Medium Saucepan

Potato Masher or Wooden Spoon

Jar with air-tight seal

Measuring cups & spoons
Ingredients
1 1/2

cups

raspberries

1

cup

strawberries

chopped

1

cup

blackberries

2

ounces

AMARUMAYU Camu Camu Superfruit Juice

2 1/2

tablespoons

chia seeds

2

tablespoons

pure maple syrup
Instructions
Place a saucepan over medium-high heat and add the raspberries, strawberries and blackberries.

After the saucepan has begun to heat the berries, add the AMARUMAYU Camu Camu Superfruit Juice.

With a potato masher or wooden spoon, begin to mash the berries down until the mixture is mostly smooth with only small chunks of berries left.

Leave the pot bubbling on medium-high heat, stirring occasionally, for roughly 5-7 minutes to allow the mixture to reduce and thicken.

Add the chia seeds and maple syrup to the jam, stir together, and allow the mixture to reduce for another 2-3 minutes. Then, remove from heat and allow the jam to cool in the pot.

Transfer the jam into a mason jar or reuse an old jam jar that has an air-tight lid!

Enjoy this Triple Berry Camu Jam as a topping for oatmeal bowls, smoothie bowls, mix into yogurt or enjoy as a peanut butter, banana and camu jam sandwich like we did!
Notes
*Easy & healthy Peanut Butter, Banana & Camu Jam Sandwich!*
The perfect option for an on-the-go lunch or to pack your children's lunch box with! Follow the simple steps below for a low-sugar version to a classic favorite!
1. Toast up 2 slices of your favorite bread. (We used a 21 grain, thin-sliced bread!)
2. Spread roughly 2 tablespoons of natural peanut butter on one slice of the bread and roughly 2 tablespoons of the Triple Berry Camu Jam on the opposite slice.
3. Cut 1 banana in half width-wise and then slice that portion down the center length-wise. Add both banana strips on top of the peanut butter slice.
4. Put your slices of bread together and enjoy!!
* Store your jam in an air-tight container in the refrigerator for 2-3 weeks!