Pineapple Buriti Chipotle Sauce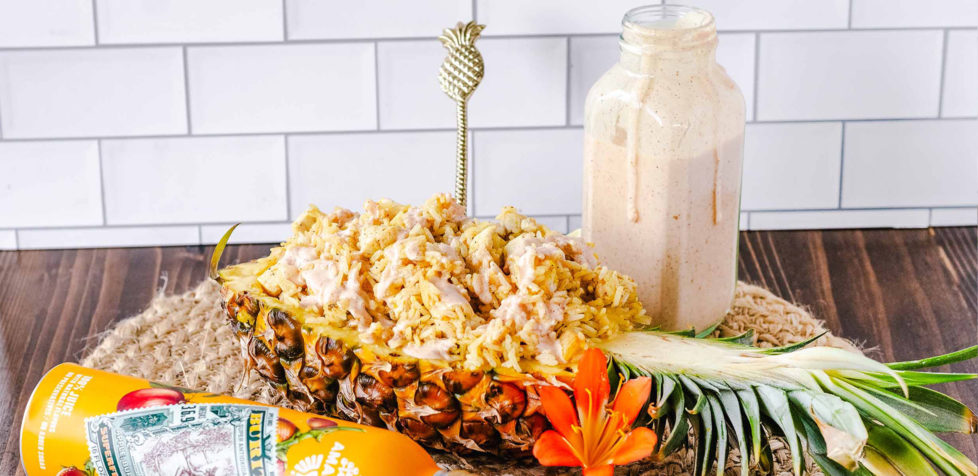 Let's be real, we all love condiments! Adding sauces, dressings and marinades to our food can turn a boring dish into a unique and exciting one – BUT I think we can all agree that we don't love how most condiments come loaded with things like artificial sweeteners, colors and preservatives! YUCK.
Don't worry, we have a solution! What about a sweet and savory, creamy and unique sauce and dressing option that is full of fresh flavors and wholesome superfood ingredients? We've got you covered!!
Introducing our Pineapple Buriti Chipotle Sauce! This recipe only takes 5 minutes to whisk together, has the perfect balance between smoky and sweet flavors and works perfectly as a creamy salad dressing or low-calorie sauce on things like chicken, fish, beef or grilled veggies! The secret ingredient? AMARUMAYU's Buriti Superfruit Juice, of course!
Need to stock up on more AMARUMAYU Buriti Superfruit Juice? Find it here!
This Pineapple Buriti Chipotle Sauce is the perfect, light dressing or sauce option for all of your savory spring & summer BBQ dishes! 
Equipment
Medium Mixing Bowl

Whisk

Dressing Bottle or Jar with Lid

Measuring Spoons & Cups
Ingredients
1 1/2

cups

Greek Yogurt

Unsweetened

1/2

cup

AMARUMAYU Buriti Superfruit Juice

1/4

cup

Pineapple Juice

1

tablespoon

Lime Juice

1/2

teaspoon

Sea Salt

1/2

teaspoon

Black Pepper

1/2

teaspoon

Garlic Powder

1/2

teaspoon

Smoked Paprika

1/2

teaspoon

Chipotle Powder

1/2

teaspoon

Chili Powder

1/4

teaspoon

Onion Powder
Instructions
To a medium-sized mixing bowl, whisk together the Greek yogurt, AMARUMAYU Superfruit Juice, pineapple juice and lime juice.

Then, add the salt, black pepper, garlic powder, smoked paprika, chipotle powder, chili powder and onion powder.

Whisk thoroughly until all ingredients are fully combined. Then, transfer to clean jar or dressing bottle with a lid. 

Pour over your favorite savory spring or summer dish! This sauce works great on chicken and rice, fish, steak, salads or grilled veggies!
Notes
1. Store in an air-tight jar or dressing bottle for 3-5 days in the fridge.